PRIVATE LABEL PACKAGING MINIMUM ORDER REQUIREMENTS
Minimums start at 1000 units per box style and per shade label. Contact us at 1-888-AURALINE or cs@auralinebeauty.com for more details if you are able to meet these minimum order requirements.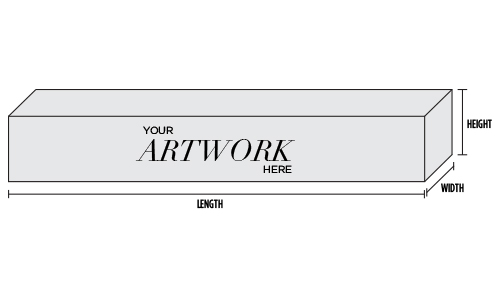 TYPES OF PRIVATE LABEL PACKAGING OF CARTONS AND SHADE LABELS
Note: The images below are visual examples only. Liquid to Matte Lipstick shade labels are 0.5 inches in diameter.
PROCESS OF CREATING YOUR OWN CUSTOM PRIVATE LABEL PACKAGING
Step 1:

Order Your Quantities
Once you've decided on the quantities you need for your order, contact us to get the process started. We are available Mon-Fri 8am-4pm PST by phone 1-888-AURALINE or email us at cs@auralinebeauty.com. We will walk you through the entire process and what you can expect when working with us.

Step 2:

Send Your Artwork

Send us your artwork for the carton or shade label. We will provide dielines and advise the best printing practices that will help you brand your packaging. Final pricing will be quoted once your artwork design and sizing is confirmed.

Step 3:

Approve Your Pre-Production Sample (PPS)

You will receive a physical pre-production sample carton to review. There are no pre-production samples for shade labels. At this step, you will make sure that the carton is up to your standards, and approve it to be printed for full production. PPS may take 25-30 days to arrive at your doorstep, dependent on timelines, holidays, and shipping carrier efficiency. After you approve your PPS, no more changes will be made. If you do not approve, additional PPS carton samples may be requested for a fee of $150 each time.

Step 4:

Production of Your Order

PPS approval means we will go into production of your full custom order. Production time is around 30 days. Any special shipping methods will be covered by your shipping account, such as DHL or rushed air delivery.
PRODUCTION LEAD TIMES
Pre-Production Samples: 25-30 days (upon artwork confirmation)
Production: 25-30 days
Shipping: 3-15 days
GRAPHIC DESIGN RATE
If you require the assistance of our talented in-house graphic designers, our services are available at $75/hour. Minimum 1 hour increments. Hours will be quoted per project.
STANDARD INFORMATION TO PLACE ON CARTONS
Customer must be responsible for all verbiage and artwork development. Auraline Beauty can advise the following information to be included on your secondary packaging.
Please note that this is a guideline only. Depending on where you are selling, you may have to adjust information to be compliant with the regulations of your country.
Your Brand Name
Product Name
Ingredient Listing
Weight Claim
Made-in Statement
Period After Opening (PAO)
Distribution Info (ie. Distributed by XYZ Cosmetics Inc., Los Angeles, CA 9XXXX)
Website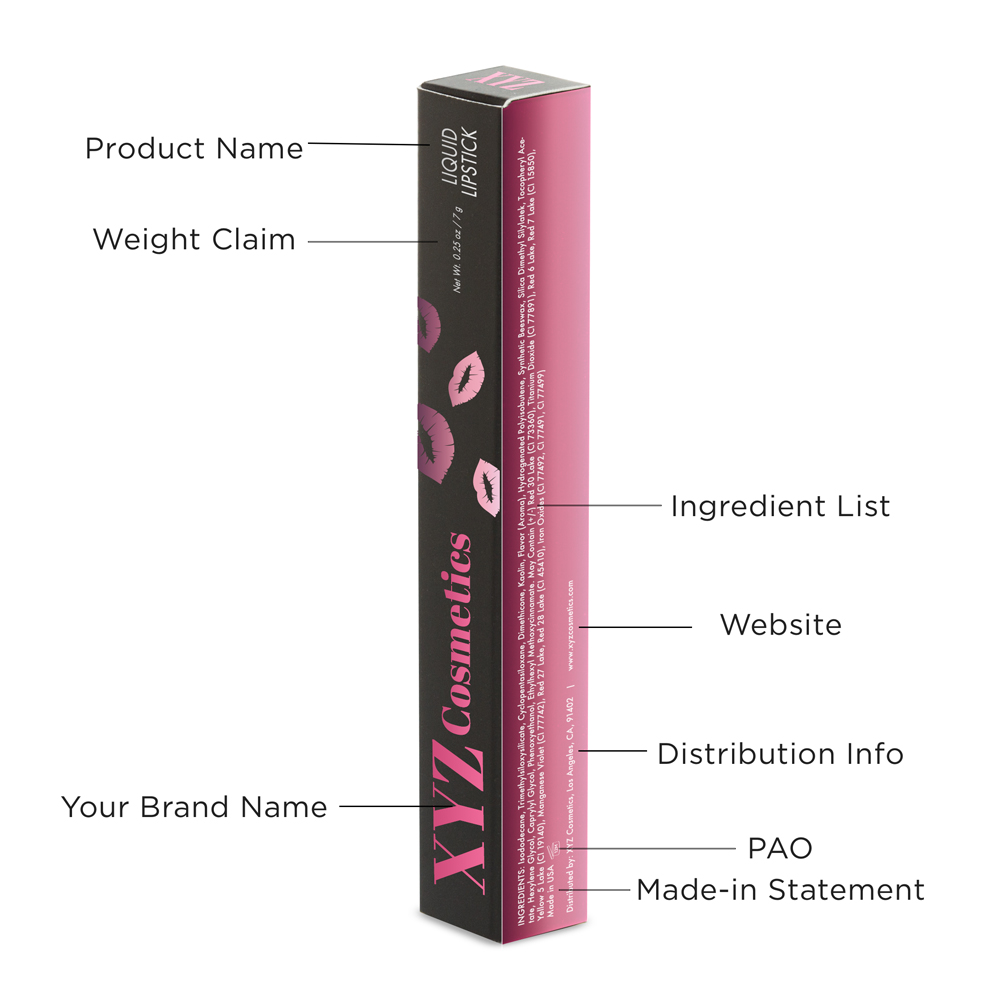 CARTON AND SHADE LABEL GLOSSARY
| | |
| --- | --- |
| | 1 Color Carton: Print one color on a carton color of your choice. Our most popular choices are white text on a black carton, or black text on a white carton. Standard matte or glossy finish only. |
| | Full Color Carton: Print any image with any colors of your choice. As long as the image is high resolution and in CMYK format, we can print it. Standard matte or glossy finish only. |
| | Full Color Carton with Special Decoration: Print any image with any colors of your choice, and use hot foil stamping or embossing/debossing to add more luxury to your packaging. Matte, glossy, or a combination of finishes are allowed. |
| | 1 Color Shade Label: Print one color on either a white or black background. Our most popular examples are white text on a black label, or black text on a white label. Standard matte or glossy finish. |
| | Full Color Shade Label: Print multiple colors on any colored background. Contrasting colors work well for text to show up. Standard matte or glossy finish. |
| | 1 Color Shade Label on Foil Background: Print any color text on top of gold, silver, or pink foil background. |
GET PRIVTE LABEL PACKAGING WITH AURALINE BEAUTY
Work with Auraline Beauty to ensure that you private label packaging is exactly how you expect. Preserving your brand and your customers are happy. Reach out today for more information.